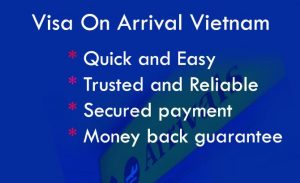 only 10 usd
with 4 easy steps to get Visa on arrival

Please Contact us for the details and best services; best price!
---
1. Fill out the secure online application form
You are required to provide us the exact personal information of the applicant(s)
Full name – The same as in passport
Date of birth
Nationality
Passport number
Date of arrival
Type of Visa
---
2 . Confirm and pay for service fee
Please double check to ensure the information is correct, select to use extra services (Airport Fast Track/Car Pick-Up) if any. You can make payment with your Credit/ Debit Card via OnePay/PayPal or pay via Western Union.
---
3. Get approval letter and prepare for getting visa stamped on arrival
After 1 working day, YOU WILL:
Get visa approval letter via email (attached with entry-and-exit form)
Print out the letter and the entry-and-exit form
Fill out the entry-and-exit form
Prepare 2 passport sized photos 4x6cm and an amount of USD for stamping fee ($25 for single entry; $50 for multiple entry visa. It is may be changed without notice under the policies of Immigration Dept)
Put all above mentioned things along with your passport in a package, then show them to Immigration officer at Vietnam arrival airports
---
4. Get your visa stamped upon arrival
Upon arrival to Vietnam International Airports (Hanoi, Da Nang or Hochiminh), you present all things in the prepared package (passport, visa approval letter, 2 passport sized photos 4x6cm, the entry-and-exit form and stamping fee) to the Immigration officer to get your visa stamped.