Vietnam is a mega-star. Always indulging in aromatic fresh foods. Never too far from supreme satins. And permanently looking spectacular for the cameras. Like a lot of super-stars its talents were once submerged by a dark past; but knowing about it only makes you appreciate its genius even more. Join this trip and get an all access backstage experience with Vietnam. Glamorous temples, glitzy beaches, frantic cities and glorious vistas. Needless to say, it's a blockbuster of a trip.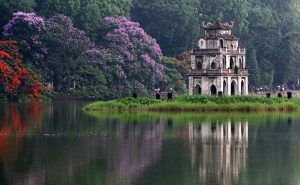 Day 1: Hanoi arrival. 
We will pick you up at the Noi Bai Int airport and transfer to your hotel in Ha Noi.
At 18.00pm we have a welcome meet and greet. If you arrive early make sure to step out into this mesmerising city. The first things you'll notice are the vehicles of all shapes and sizes tirelessly whizzing by. The theory of crossing the road is simple. No sudden movement. Walk at a steady pace. The vehicles will avoid you. Crazy, beautiful and hectic, a day in Hanoi is never dull. After our welcome meeting we'll head to a great local restaurant in the heart of the old quarter, before heading out to experience the local Beer Hoi.
---
Day 2: Hanoi ( Meal included: Breakfast )
Hanoi city tour;  Ninh Binh- Ha Long bay onland tour or Perfume Pagoda tour are the choices for you. It is optional and you can chose 1 of them for this day.
You wake with a smile today. There's so much to do. Roam the city, wrestle with the motorbikes, and visit some fascinating museums. You can even go see Uncle Ho's mauseleum while you're in town. You can escape the city and journey along a tranquil river through limestone karst, or visit the famous perfume Pagoda if you're craving some countryside.
This evening join your Guide for trying some local food and beverage such as Nem ( spring rolls ); Bun Cha ( fresh rice noddle with Pork BBQ ); Bia Hoi ( local fresh beer ) Egg coffee… and so much more.
---
Day 3: Hanoi to Mai Chau ( Meals included: Breakfast – Lunch – Dinner )
Check out after breakfast. In a few hours' time you'll have forgotten all the bustle of the city and find yourself in an idyllic rural setting. All the whirring engines and concrete slabs are replaced by lush valleys populated by paddy fields, birdsong and water streams. After your included lunch grab a bike and head out with your Guide and explore this memorable landscape. Tonight we enjoy a local dinner and overnight in a traditional stilt house.
---
Day 4: Mai Chau to Phong Nha Ke Bang caves ( Meals included: Breakfast – Lunch – Dinner )
We leave early and embark on full day of travelling. Just sit back and enjoy watching this colourful world go by. We head off the beaten track through some parts of the Ho Chi Minh Trail to Phong Nha Ke Bang National Park. A Unesco World Heritage Site, that includes all the best bits of geography. Huge sandstone caves and lush jungle. We arrive in time for a bit of exploration before heading to a great local restaurant for dinner and drinks.
---
Day 5: Phong Nha Ke Bang caves ( Meals included: Breakfast – Lunch )
A whole day to explore this geological paradise. One day this will become a huge tourist attraction, so enjoy the peace while you can. Today we explore two of the best. Firstly we head to Paradise Cave, one of the most beautiful in the region (possibly the world). We'll then head on to the main attraction – the Dark Cave. Here you zipline across the river, venture inside the dark cave to mud caverns where you'll be swimming in pools full of chocolatey mud. Afterwards swim in the river, kayak, and cool off from your adventure packed day. Tonight we'll head to another great restaurant for a tasty local feast.
---
Day 6: Phong Nha Ke Bang to Hoi An – Day in Hue on route. ( Meal included: Breakfast  )
Up at dawn, but with good reason. Today we're going to the historic town of Hue. This was once the capital of Vietnam and it's easy to understand why. We go on a guided tour jam-packed with pagoda, palaces and tombs. It's a great chance to learn about Vietnam's culture and history from the ancient past right up to the present century. We leave early afternoon and arrive in charming Hoi An , head to the tailor shops and go to one of our favourite restaurants in Vietnam.
---
Day 7: Hoi An ( Meals included: Breakfast – Lunch )
Calm, serene and magical. One of the most well preserved traditional towns in South East Asia. Quirky coffee shops, fantastic markets and fresh grub. Watch the people go by and explore this mesmerising maze as much as you can! If you get bored here, then there's something wrong with your eyes! Today you get the chance to go beyond the city and see the local life along the river. Join the Eco-tour and Cooking class to learn some great culinary skills while also checking out the local markets and sailing across the river. In the evening there's a great bar scene and some floating lanterns down by the riverside for you to enjoy.
---
Day 8: Hoi An to Nha Trang ( Meals included: Breakfast – Lunch )
Breakfast is included before our drive to Nha Trang. Today is the longest drive of the tour, but there are great lunch stops and some great chances to see the local's going about their daily life. We arrive at Nha Trang in time for an orientation walk and dinner at a local restaurant. The Nha Trang night life certainly lives up to its expectations, so tonight your Guide will make sure to show you some of the best bars in town.
---
Day 9: Nha Trang ( Meals included: Breakfast – Lunch )
A beach destination with all the mod-cons. Every water activity imaginable is here. One of the best things to do is the Snorkeling Boat trip. Join Captain Morgan and his team and head out to Mun Island where you can snorkel in the coral amongst schools of fish and enjoy the feeling of being by a secluded island. There are plenty of beach and swim stops along the way, onboard entertainment, plus a great buffet lunch. Dinner tonight is your choice, and if you've been craving seafood, this is the place. After dinner why not join your Guide for a few more drinks, this is Nha Trang afterall.
---
Day 10: Nha Trang to Dalat ( Meals included: Breakfast – Lunch )
After breakfast we head to the mountains. The temperature is nice and cool, which is perfect for all the adventurous activities you're going to do.
---
Day 11: Dalat ( Meals included: Breakfast – Lunch )
Good morning! And welcome back to the thrills of your youth. Immerse yourself in this natural playground and explore the lakes and waterfalls. You're likely to have booked an adventure for today, so go with it and do it with all your adventurous might! The evening is free for you to enjoy some of the regional delicacies.
---
Day 12: Dalat to Ho Chi Minh City ( Meals included: Breakfast – Lunch )
After breakfast we head to the famous Ho Chi Minh City (formally known as Saigon). On arrival your senses will be completely bombarded. From the techno populated buildings to the old whirring motorbikes, this city will hit you hard. This evening your Guide will take you on an orientation walk, taking you to Ben Thanh night markets, and the backpacker area, before heading to our hidden local restaurant for a great dinner in Ho Chi Minh.
---
Day 13: Mekong Delta – Cai Be floating market (B – L) by minivan – 2 hours
The day will begin with a two-hour ride from Ho Chi Minh City to the Mekong Delta. Upon arrival, we will take a boat cruise to visit Cai Be Floating Market. The floating market is one of the most interesting and exciting attractions in the Mekong Delta. At the floating market, you can watch locals aboard their small boats trading fresh goods and local commodities. We will stop over at a local house where we can see how they make coconut candy, rice-paper, rice-pop corn and rice wine. Leave Cai Be for Binh Hoa Phuoc Islet where the maze of shady creeks will surely fascinate you. You will have a chance to spend time amidst the local farmers, enjoying traditional music and tropical fruits. Have a traditional lunch at a local home, including the popular dish of 'Elephant Ear Fish'. Return to Ho Chi Minh City. Overnight in Ho Chi Minh City.
---
Day 14: Cu Chi Tunnels  (BL) by flight – 1 hour
Start the day with a visit to the famous Cu Chi Tunnels, a network of tunnels stretching over 200 km. Cu Chi became legendary during the 1960's in playing a vital role in the Vietnam War by allowing Viet Cong (communist guerillas) to control large rural areas, just 30 to 40 km away from Ho Chi Minh City.
Today afternoon is free. You can visit some museums in the city and meet the tour leader again at 7.00pm for farewell dinner. It will be the last night on this trip.
---
Day 15. Departure
Check out time is at 11.00 AM. Your free time until your departure.
What's included
Accommodation

Guide

Experienced English speaking Guide

Meals

As mentioned in the program.

Transport

Private transport

Additional Services

Cycle trip in Mai Chau with local guide
Day trip in Hue with local guide