Hue city has very nice asset of offering quaint and diverse countryside just few miles away from its center. This tour focuses on the rural sides of Hue with a touch of architectural heritage at the Thanh Toan Bridge. We take you on an adventure loaded with fun outdoor activities and interactions with locals. Find yourself cycling along rice fields and sandy beach, exploring a scenic lagoon on board of a local sampan and meeting with friendly farmers and fishermen.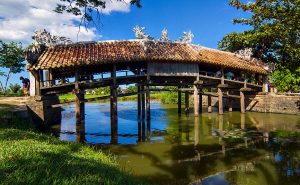 * You can book one of 3 these below options or a full package with all of them for 1 day explore HUE LIFE trip.
OPT 1: [MORNING] CYCLING TO THANH THUY VILLAGE (HALF DAY)
Meal: lunch | Accommodation: not included
7:45 AM – Bikes and guide is ready at your hotel, time to take off. We quickly get on quaint rural pathways along canals and rice fields. The pace is yours and don't worry, there should be tons of photography opportunities to excuse quick stops on the way. We reach the peaceful Thanh Thuy village and its famous Thanh Toan Bridge after about an hour. There's time for a walk to the rural market nearby and a visit to village museum where you'll get an introduction of local farming.
Back on wheels for few kilometres we settle down at a local farmer's house.  Depending on the season we may have the chance to see them at work, try our hand on gardening or cooking some local dishes. Lunch will be served then with local home grown products.
13:30 – easy cycle back to your hotel. Trip ends.
Note: In case your hotel is away from the city center, we can send a vehicle to pick you up at extra charge.
---
OPT 2: [AFTERNOON] FISHERMEN IN TAM GIANG LAGOON (HALF DAY)
Meal: not any | Accommodation: not included
14:30 – Our guide meet up at your hotel for a quick transfer to Tam Giang lagoon. You will witness the passion of local people for beautiful tombs and be immersed in a rural atmosphere between sea, lagoon and rice fields.
We reach the house of a nice family just by the lagoon. We embark on a boat trip to go see how people catch fishes in that region. And to get explained about what seafood can be found and why locals treasure the lagoon so much. Back on land we have the option to cycle to the beach or to take a leisure walk around. Before leaving, our host will cook for us some seafood of the lagoon. We say farewell, drive back to Hue and end the trip at your hotel.
---
OPT 3: [EVENING] HUE FOR FOODIES ON BICYCLES
Meal: dinner | Accommodation: not included
17:00 – We pick you up with bicycles at your hotel in the city center. Hope you did not have a snack in the afternoon because the evening will be dedicated to food, food and food.
We start by an aperitif of Hue's famous cake 'beo-nam-loc'. The guide will give you there a brief about Hue's foods, their origins and anecdotes. Next delicacies, we take a low seat on the pavement and look at the people creating incredible dishes in their micro-kitchen. It smells delicious and it surely is. We have some crispy salted pancake, a symbol of Hue all around the country, and some grilled pork on a lemongrass skewer. Yes, fine cuisine can also be found in the streets. We are in the imperial city after all.
We end the evening with a dessert at a local stall selling the traditional mixed sweet soups of Hue. It may look weird at the first sight but don't be fooled by the appearance, it is de-li-cious.
In case your hotel is away from the city center, we can send a vehicle to pick you up at extra charge.
If cycling is not something you fancy, or in case of rain; we'll provide the tour with local cyclo without any surcharge.
PRICE PER PERSON IN US DOLLARS
PRICE PER PERSON IN US DOLLAR BASED ON GROUP SIZE
| | | |
| --- | --- | --- |
| | Solo trip |  Group of 2 |
| Program 1 | USD 78 | USD 60 |
| Program 2 | USD 95 | USD 65 |
| Program 3 | USD 65 | USD 45 |
* * Discount for larger group is available; please contact our travel consultants at info@vietlinktravel.com.vn 
---
INCLUDED
Meals as specified in the program
Travel in an appropriate air-conditioned vehicle with an experienced driver
Sampan trips at Thanh Thuy and Tam Giang
Bikes and helmets
The services of an experienced English-speaking guide
All entrance fees
VAT and other taxes
---
NOT INCLUDED
Hotel in Hue
Beverages, gratuities and personal expenses
Camera fees (if any)
Insurance
Surcharge in peak season (Christmas & New Year)